The Penis Book
Dr. Aaron Spitz's book, The Penis Book, will be published by Rodale on February 20, 2018.
The book tackles a wide range of male reproductive and fertility issues from the development of the penis to addressing men's concerns about the size and shape of their penises.
The Penis Book blends Dr. Spitz's years of expertise with a good sense of humor to ease readers into conversations that might otherwise be uncomfortable, entertaining the audience while explaining what they need to know about their bodies.
The Penis Book is available for pre-order at the following retailers: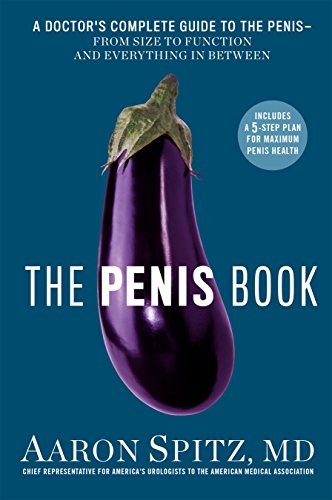 "Men far too often ignore, or are too afraid to discuss, their private health concerns. Dr. Spitz to the rescue. Dr. Spitz is here to answer all of the questions you've ever had surrounding the mystery of your genitals."
—Dr. Travis Stork, Host of The Doctors, and #1 NYT Bestselling Author
"From our first season, Dr. Aaron Spitz has been the go-to expert for topics below the belt on The Doctors television show. His wit and expertise have provided not only laughter but learning and help for many people about taboo topics. In this book, he answers any and all questions about the penis with the humor and simplicity that have made him one of our audience favorites. This book is a wonderful resource for anyone with a penis or for anyone who knows someone with a penis."
—Andrew P. Ordon, MD, F.A.C.S., Plastic Surgeon, and Emmy Award-nominated TV Talk Show Host of The Doctors
"Dr. Spitz has written a book that answers all the questions people are thinking about but are afraid to ask. He has a simple, humorous way of explaining things which makes it an easy read for all."
—Stanton Honig, MD, Director of Men's Health at Yale Medicine Urology
"Dr. Aaron Spitz is a brilliant urologist who comprehensively tackles this topic with both clarity and humor. His insightful advice will prove to be highly informative for male and female readers alike."
—Robert E. Brannigan, MD, Professor of Urology at the Feinberg School of Medicine, Northwestern University
"The Penis Book is an amusing read while also an exhaustive reference source on man's best friend. The chapter on pornography alone is worth the purchase price."
—Steven K. Wilson, MD, FACS, FRCS, Editor-In-Chief of ISSM Video Journal of Prosthetic Urology
"The Penis Book tells the facts and exposes the fiction about the penis, its anatomy and function, in a casual, comfortable manner understandable by all.  At a time where the internet makes so many men feel they must be lacking, this little book tells the big story of what can be done to help when there is an issue with the penis, what shouldn't be done as it might do harm, and what safe and effective treatments are currently available for sexual health concerns. As a sexual medicine physician for almost 40 years, I applaud Aaron Spitz for writing such a readable book to educate men (and their partners) everywhere, so that an enjoyable sex life can be maintained."
—Irwin Goldstein, MD, Clinical Professor of Surgery at the University of California at San Diego, Director of San Diego Sexual Medicine, and Editor-in-Chief, Sexual Medicine Reviews
"Perhaps no other organ in the body is surrounded by so much myth, fascination, and misinformation.  Dr. Spitz, a well-respected urologist in the field of men's sexuality and infertility, has succeeded in providing men and women with a practical user's manual that can actually be read with great interest from cover to cover.   This book provides serious medical advice in an accurate and engaging, yet detailed, dialogue.  I congratulate the author for setting the record straight and answering questions that many people have been afraid to ask."
—Edward D. Kim, MD, Professor of Urology at the University of Tennessee Graduate School of Medicine
"Dr. Spitz's The Penis Book is a valuable resource to patients and providers alike, providing important contemporary insight to penile health as a marker of overall health and other men's health issues in 2018. Men who read this book will have a new sense of understanding of their body, and women who read the book will appreciate the frank, open discussion of this often misunderstood male anatomy, leading to overall better relations between men and women. As he does on The Doctors show on TV, Dr. Spitz offers straightforward explanations of various male issues and has become one of the leading men's health experts in America."
—Jason Jameson, MD, Urologist and Men's Health Specialist, Mayo Clinic, Phoenix AZ
"The Penis Book by Dr. Aaron Spitz is one of those rare examples of how humor and sarcasm can help with learning a complex subject such as the human penis. While the butt of many jokes (pun intended), the penis is a fascinating organ, something that men are typically fixated on from birth until death. Dr. Spitz does an incredible job of educating the reader about all things penis, from how it works to how/why it doesn't work. The book is broken up into sections that make sense, and the reader is taken through the entire sexual process. He has several chapters on penile health (and how you can improve it), as well as a section on problems of the penis, including the very timely topic of gender identity and the role of the penis. His writing style is just like his speaking style, somewhat sarcastic, extremely funny, and very well informed. This book is geared towards the lay person, but health care professionals will find it very useful as well. I would recommend this book to anyone who wants to know more about the inner workings of a very complex, although often underestimated, organ. This should be on everyone's coffee table."
—Jay Sandlow, MD, Professor and Vice-Chairman of the Department of Urology, Medical College of Wisconsin
"The Penis Book is truly a great read for men (and women) to understand the often wondered, but too embarrassed to ask, questions about The Organ. Dr. Spitz has done an amazing job of explaining all of the functions and dysfunctions of the male sexual and reproductive organs to readers with his use on humor, metaphor and slang. I highly recommend this book to anyone interested in the subject."
—Edward Karpman, MD, FACS, Men's Health, Male Reproductive and Sexual Medicine, Microsurgery at El Camino Urology Medical Group, Inc.
"The Penis Book is a humorous and informative guide to a man's most precious organ. Read it if you have always wanted to understand how the penis works, what causes sexual and other problems, and how to treat them. Most of all, you can learn at last the connection between the big head and the little head."
—Stephanie Buehler, PsyD, CST-S, author of What Every Mental Health Professional Needs to Know about Sex
"Dr. Spitz blends meticulously referenced science with provocative humor to educate the reader about everything penis. The text also relays the crucial point that sexual health translates to general health and vice versa. This state of the art reference book for the penis deservingly earns its place next to the dictionary."
—Tobias S. Köhler, MD, MPH, Mayo Clinic
"A man's guide to understanding his own intimate machinery, this book is raucous, honest, scientifically accurate, and a must-read. Only Dr. Aaron Spitz could combine his unique brand of humor with a thorough knowledge of urology. I am sure this enlightening book will find its way to many night tables both here and abroad."
—Larry I. Lipshultz, M.D., Professor of Urology, Chief of Division of Male Reproductive Medicine and Surgery, Scott Department of Urology, Baylor College of Medicine
"Let me start by saying the penis is funny!  What many do not know about Aaron Spitz, MD, Chief Representative for America's Urologists to the American Medical Association, is that he once was a stand-up comedian and a good one.  This adjunct to his training courses smoothly through "The Penis Book" making it a must read for anyone who finds the penis both funny and essential.  From the "Fake News" on circumcision and penile enlargement to the rational treatments for anejaculation and erectile dysfunction, Dr. Spitz nails it!  I have seen more penis than most during my career and this book will remain on my desk as both a reference and a joy to re-read."
—Paul E Perito, MD FACS, Program Director and Chief Surgeon PeritoUrology, Center for Prosthetic Surgery, Coral Gables Hospital
"Aaron Spitz has given us an accurate and entertaining review on everything anyone might want to know about the penis. It covers topics from the biological development of the organ to normal function as well as a variety of dysfunctions. It is a welcome addition to the very limited available literature published for the lay public on the penis.  I especially like his humorous approach to these subjects, while at the same time addressing each topic with a level of expertise which is easy to understand.
This book contains loads of useful information which clarifies and debunks many of the myths about the penis. Although it may be a difficult book to leave on the coffee table, it will be a useful addition to one's personal library."
—Laurence A. Levine, MD, Professor of Urology, Rush University Medical Center
"Men historically will not talk about their health especially their sexual health with anyone usually, unlike women who may get intimate with their female friends etc. Women often learn a lot in these communal therapy sessions. Maybe a chauvinistic impression, but true, and men and women think and behave very differently at times. As such men's knowledge of their body is limited by education in school vs remain in denial vs learn everything the wrong way with machismo and/or school yard bravado vs even images of body image and expectation through TV/movies/pornography. There is never an honest and "basic" conversation about male sexual issues. The Penis Book by Dr. Aaron Spitz fixes that. A complete medical, humorous and occasionally racey/risqué look at the subject is easy to read, uses words that most men use and understand (let's be honest). Even I as a male reproductive and sex specialist learnt something! If guys were to sit together drinking beer, like a bunch of urologists, maybe the conversation about the issue would sound like Dr. Spitz's book. Dr. Spitz is one of the smartest and funniest human beings I know and no surprise his book is just the same. I recommend the book to any man to learn about their body in private or clinician to educate their patients. Well done!"
—Ajay K. Nangia MBBS, FACS, Professor and Vice Chair, Director of Andrology, Department of Urology, University of Kansas Health System
As a CEO of a national healthcare company, I work with many physicians nationwide. I can sincerely say that Dr. Spitz is an outstanding physician and person on multiple levels. Clinically, he is no doubt a leader in the field of urology.
More recently, it has come to my attention that Dr. Spitz is writing a book about sexual health issues and society, combining clinical insight as well as practical observations for society, addressing many of the sexual concerns people have. Very much looking forward to reading this because of his clinical expertise, keen insight on sexual and social issues, and incredible sense of humor, a combination that is rare.
Dr. Spitz is brilliant clinically and has a sense of humor to match. This is why I look forward to learning more from him through his television and media appearances as well as his upcoming written publications.
Fahim Hashim
Dr. Aaron Spitz's segments on CBS The Doctors are uniquely positioned to the viewers, as he simplifies complicated issues in this Medical Practice sector, always speaking layperson language and bringing a touch of humor to help get the message across.
His book "The Penis Book," due out in 2017 and represented by Agent Alan Morell, Creative Management Partners in Beverly Hills, allows Dr. Spitz's broad audience to gain important knowledge as they experience these life issues.
Dr. Drew Ordon
Dr. Spitz is a recognized and nationally acclaimed expert in the treatment of infertility and sexual dysfunction. His presence on camera is ideal, as he gives viewers a relaxed and professional feeling of confidence.
Alan Morell
Aaron Spitz is a urologic "Renaissance Man."  Known in the media for his expertise in the treatment of erectile dysfunction and male genital problems, Dr. Spitz is also on the cutting edge of "telemedicine."  He is nationally prominent as a patient advocate in the AMA House of Delegates and is deeply involved in health policy issues.  In this book, Dr. Spitz brings his expertise to a topic close to the heart of all men – and women as well.
William F. Gee MD, FACS
Contact Us
Please complete the form below or call us for detailed information packet.
Phone Numbers:
714-REVERSE   (714.738.3773)
949-716-DADDY   (949.716.3233)
Contact