Technology is everywhere these days—including in the bedroom. That's right; if you're looking for anything from basic sexual health information to tips on how to have better sex with your partner, there's probably an app for that.
None of these apps replaces a good old visit to the doctor, of course. But they're a great place to start. And the movement to make sexual health information easier to access via technology like telemedicine and apps is definitely worth paying attention to.
Here are some examples of up and coming sexual health apps.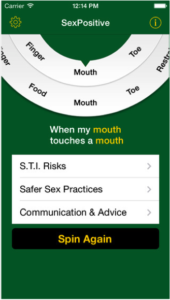 SexPositive (for iPhone and Android)
Brought to you by the University of Oregon, SexPositive uses a simple wheel format that lets you match up parts of the body to see what happens when those parts touch each other. It also offers relationship communication advice and everything you need to know about STIs and safe sex.
The app's website explains the creators' mission:
"First, we want folks to examine their motivations for having sex and consider whether they're ready for sex. Second, for users who are ready for sex, we want them to understand that a 'yes' to one sexual act is not a 'yes' to every sexual act. Third, we want users to consider a variety of personal boundaries before finding themselves in a high-pressure situation. Finally, we want to model the many ways to express and obtain explicit consent."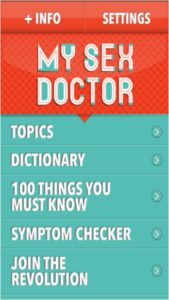 My Sex Doctor (for iPhone and Android)
At first glance it might look like the target audience for this London-based app is teens. You're not wrong—My Sex Doctor does include a glossary of terms as well as information on puberty and anatomy for the younger set.
But hey, you're probably going to have to talk about the birds and the bees with a young person in your life at some point, right? Now you're prepared for all their tough questions!
There are actually three versions of this app: one for users under 17 ("My Sex Doctor Lite") and two for adults (one free with ads, one paid without ads). So no matter what your age, you can learn something new.
You might even pick up a few good tips on improving your flirting skills!
The info is vetted by government websites, academics, and healthcare professionals.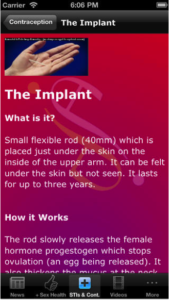 Sexual Health Guide (for iPhone and Android)
This app comes from Ireland's Global Internet Radio Technologies and serves as a huge encyclopedia of terms and tips. Topics range from contraception to myths about sex to sexual problems both men and women might encounter.
Not much of a reader? No problem! The Sexual Health Guide app includes both text and video.
It also happens to be the first sexual health app created in Ireland.
Like My Sex Doctor, its target audience skews a bit young, but there's plenty of useful information for people of all ages here.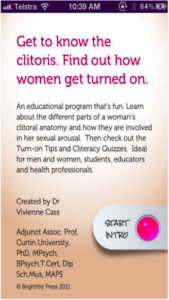 Explore Women's Sex (for iPhone)
Gents, don't think you can sit this one out!
Explore Women's Sex isn't just for the ladies. It has a selection of great info for both men and women on sexual orientation, safe sex, contraception, and how drugs and alcohol can affect your sex life.
Created by Dr. Vivienne Cass, a clinical psychologist and sex therapist, this app uses diagrams, quizzes, and short articles to teach you everything you need to know about women's bodies—whether you have one or your partner does.
(You won't want to miss the "turn on tips" to shake up your bedroom activities!)
Unfortunately, this one's only available to iPhone users at the moment.
Of course, these are only a few examples of the sexual health apps out there. Do you use any of these apps or others not listed to improve your sexual health or knowledge? I'd love to hear from you!
As technology continues to improve, more options will inevitably appear—some better than others. And while none of these can (or should!) replace those regular check-ups with your doctor, they can be a great source of information…or even a good conversation starter!